Chocolate Vegan Tiffin Recipe (UK)
This Vegan Chocolate Tiffin recipe is quick, easy and soooooooo tasty! In fact I'm actually starting to regret making this one as the chances of me eating the whole tray are very real!
Also if you aren't a vegan, don't be put off by the fact that this recipe is vegan, as I can positively assure you, it is no less delicious than if it wasn't vegan and in fact I probably wouldn't even make any changes to it if I was making it for non-vegans.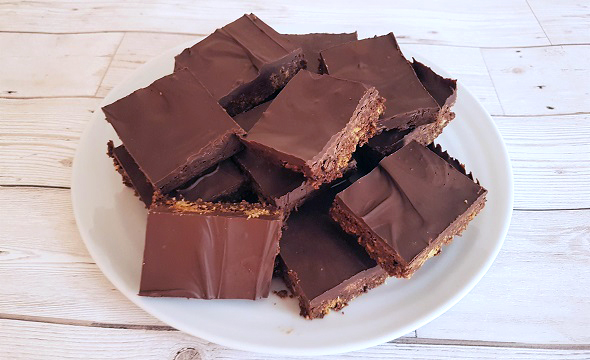 Ingredients
500

g

Choc Chip Hobnob Biscuits

30

g

Good Quality Cocoa Powder

160

g

Stork Baking Block

2

tbsp

Golden Syrup

2

tbsp

Caster Sugar

2

x Large 180g Bars of Plain Chocolate

I use Bournville
Instructions
Line a 7"x11" (or similar) baking tray with clingfilm, so that it overhangs every side.

Place the biscuits into a plastic bag and crush with a rolling pin, making sure to leave a few larger lumps.

Melt the Stork block, sugar and syrup in a pan over a medium heat, stirring until melted.

Mix the crushed biscuits and cocoa powder together in a large bowl and then add the butter mixture mixing until well combined.

Tip the mixture into the lined tray and spread evenly, using the back of a fork to press it down.

Place the tray in the fridge for 30mins until solid.

Once the biscuit base has chilled, break the chocolate into squares and place into a microwaveable bowl.

Microwave in 30 second bursts, stirring after each blast until completely melted.

Carefully pour the chocolate evenly over the top of the biscuit base and use the back of a spoon to spread it evenly.

Return the tray to the fridge for at least an hour until it had hardened completely.

Once fully set, use the clingfilm to lift the tiffin out of the tin and use a sharp knife to cut into squares.

Sit down and enjoy a tasty square of tiffin with a cuppa!
Made this recipe? Don't forget to tag me!
@itssarahsibley I love to see all your tasty creations!