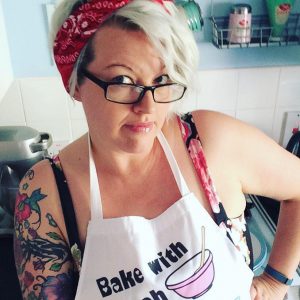 My name is Sarah Sibley and I am a baker, baking writer, multi-award winning cake artist, wife, mother and generally crazy, tattooed, red wine drinking, lover of Grime music and hair dye!
I live in Winchester with my husband and sons, where I write recipes and editorial for magazines and Bake with Sarah, as well as making cakes and all the other mundane nonsense associated with everyday adulting.
I taught myself to bake and decorate cakes towards the end of 2012, when I was looking for a way to make money working from home when my kids were younger and I set up a small home cake making business called Fantasy Fondant. Within a few months of making cakes I had started entering competitions and to date I have won numerous awards including 2x golds and 3rd place at Cake International.
I also started working with PR creative 'Miss Cakehead' on a number of high profile cake related PR stunts / events, which saw a number of my cakes go viral and feature on tv, in newspapers, in the Ripley's Believe it or Not book and even become well known memes! But as these cakes were of a, how can I say it, really gross and offensive nature, I decided to set up another cake business called Twisted Fondant, in order to make sure people who didn't want to see them weren't offended. Now I'm going to leave a link to my Twisted Fondant website here, but please don't click on it if you are easily offended or squeamish! It is rude, it is vulgar, it is offensive and it is gory! Don't say I didn't warn you!
Click here if you want to see rude and gross cakes!
Before I got into baking and cake decorating I worked as a freelance tabloid showbiz journalist and had dabbled in photography and web design, so in October 2014 I decided to take the next obvious step and combine these skills with my baking and create Bake with Sarah!
I now write for a number of baking and cake magazines, wrote a baking column in a local newspaper for a while and am now working on my first book.