Bread Pudding is a nostalgic blast from the past for most people. The main ingredients in this traditional Bread Pudding recipe are fruit, milk and wholemeal bread, so we can kid ourselves it's good for us too! 😉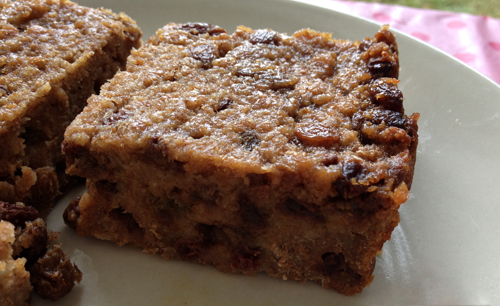 Ingredients
1

ltr Semi-Skimmed Milk

150

g

Brown Sugar

75

g

Butter / Stork

500

g

Sultanas

1

tsp

Vanilla Extract

2

tsp

Mixed Spice

1

x Standard

800g Loaf Wholemeal Bread

2

tbsp

Demerara Sugar
Instructions
Pre-heat oven to 180C / 160Fan / 350F / Gas4.

Double line a roasting tin with foil, with one piece going one way and the piece going the other way so that it overhangs on every side, then grease the foil well.

Firstly, you need to turn the entire loaf of bread into breadcrumbs, the easiest way to do this is in a food processor, but alternatively you can rub it between your hands in a large bowl.

Once your bread is all crumbs, put to one side and place the milk, butter, sugar, vanilla and spice into a large saucepan and mix together.

Then add the fruit and put on a low heat, stirring until all the sugar and butter is dissolved but do not let it boil.

Take the pan off the heat and add the breadcrumbs a bit at a time, mixing it in as you go.

Spoon the mixture into the tin, smoothing it out and into the corners until even and flat.

Finally sprinkle the top with the demerara sugar and cover the tin with foil.

Bake for 45mins, then remove the foil and bake for a further 20mins without the foil.

Leave to cool for a few minutes in the tin and then using the overhanging foil, carefully lift the bread pudding out of the tin and place it on a wire cooling rack, still on the foil.

When completely cool, gently remove the foil, cut into 12 equal pieces and serve.
Notes
Bread pudding freezes really well. Just wrap it in foil before slicing it and pop it in the freezer!
Made this recipe? Don't forget to tag me!
@itssarahsibley I love to see all your tasty creations!