Yes you really did read that correctly, this is a recipe for doughnuts made with red wine!
The perfect snack for sophisticated ladies and I quite like them too! Haha!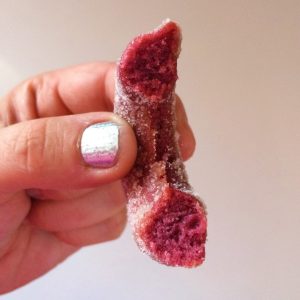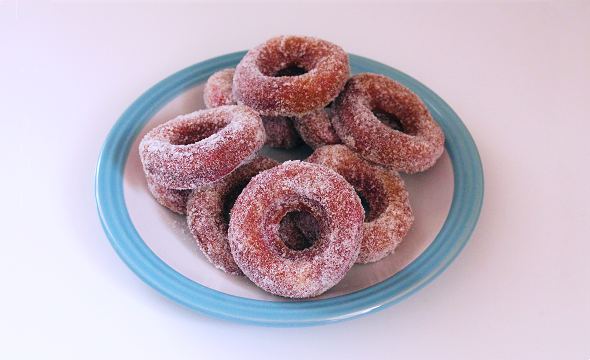 Ingredients
For the doughnuts
75

g

Self-Raising Four

60

g

Caster Sugar

20

ml

Rapeseed Oil

60

ml

Red Wine

2

x Eggs
For the sugar coating
50

g

Caster Sugar

30

g

Butter
Instructions
Preheat oven to 325°F / 160°C / 140°Fan / Gas 3.

Grease a doughnut tin thoroughly.

Place the flour & sugar into a mixing bowl and stir together.

In a separate jug, place the beaten eggs, oil & wine whisk together.

Slowly add the wet ingredients to the dry ingredients & mix thoroughly.

Add a few drops of red or burgundy gel food colouring to enhance the red wine colour and mix thoroughly.

Finally, transfer the mixture back into the jug and carefully pour it into the tin, making sure each of the cups is filled to around ¾ full.

Bake for aprox 10 minutes until firm, but springy to the touch.

Whilst the doughnuts are in the oven, melt the butter in a cup or small bowl and place the sugar for the coating in a bowl.

As soon as the doughnuts come out of the oven, carefully loosen them from the tin using a spoon but leave them in there.

Using a pastry brush, brush all of the doughnuts with the melted butter and then flip them over and do the same to the other side of them.

Finally take each one of the doughnuts and toss them around in the bowl of sugar until they are completely covered.

They can then either be served straight away whilst still hot or be left to cool and served cold.
Made this recipe? Don't forget to tag me!
@itssarahsibley I love to see all your tasty creations!