Easy Red Velvet Cupcake Recipe (UK)
Red Velvet cupcakes have always been one of those things that I just don't make. I had so many disasters when I first started out baking, that I gave up trying to find a decent recipe and vowed never to make them again. That was until someone asked me to make some this week! My first thought was to talk them into having another flavour, but then I had a word with myself and decided to man up and come up with decent recipe once and for all! And blow me down, I've only gone and done it!

Two quick points I'd just like to mention though, firstly having experienced so many peeling disasters in the past as red velvet is such a moist cake, I would always recommend using foil wrappers as they tend to hold up better against excess moisture.
Secondly, this recipe will not come out the crazy radioactive red shade that some people make red velvet, but there is a very good reason for this! It's just not good for you! This recipe already has a whole teaspoon of concentrated gel food colouring in it and to make it any redder would require an obscene amount of E numbers! By all means add more colour if you enjoy your kids bouncing off the walls, but my advice would be don't! It won't improve the taste and it's just not necessary.
So here it is, enjoy!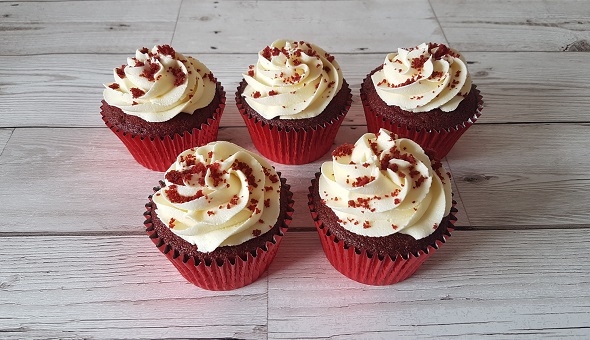 Ingredients
For the cupcakes

180

g

Butter / Stork

450

g

Caster Sugar

3

x Eggs

1

tsp

Red Gel Food Colouring

1 ½

tsp

Vanilla Extract

300

g

Plain Flour

100

g

Cornflour

45

g

Unsweetened Good Quality Cocoa Powder

360

ml

Buttermilk

1½

tsp

White Vinegar

1½

tsp

Bicarbonate of Soda

For the cream cheese frosting

225

g

Cream Cheese

110

g

Unsalted Butter

450

g

Icing Sugar

1

tsp

Vanilla Extract
Instructions
Preheat oven to 180C / 160Fan / 350F / Gas 4 & line 2x 12-hole cupcake tins with 24x foil cupcake wrappers, plus have 1 extra cupcake wrapper ready to use (it doesn't have to be foil)

In a large bowl, cream the butter and sugar until light and fluffy.

Then add the beaten eggs and mix until well combined.

Add the food colouring & vanilla and mix thoroughly.

Sieve the flour, cornflour and cocoa powder in a separate bowl and mix together.

Then add the flour mix and the buttermilk to the wet mixture in three parts, alternating between the two, starting with flour.

In a small jug or cup mix together the vinegar and bicarbonate of soda and then add it to the batter and mix well.

Carefully spoon the batter into the 24x cupcake wrappers until they are ⅔ full and then use the leftover batter to fill the extra wrapper.

Place the 2 tins of cupcakes into the oven on separate shelves along with the extra one and bake for around 20mins or until a toothpick inserted in the centre comes out clean.

Remove from the tins and leave to cool on a wire rack.

Once cool, take the extra cupcake that wasn't baked in a tin and remove the wrapper and top crust. Then crumble the soft red sponge into a bowl, keeping on crumbling the sponge until they are all small fine crumbs with no big lumps.

For the cream cheese frosting, mix together the softened butter and cream cheese.

Then add the icing sugar and vanilla, mixing together until creamy and lump free.

Pipe or spoon a small amount of frosting onto each of the cupcakes and then finish by sprinkling a small amount of the red sponge crumbs on top.
Notes
Cream cheese frosting should be kept refrigerated or eaten within a few hours, so if you are not able to do this, you can replace the cream cheese frosting for a standard vanilla buttercream (250g Unsalted Butter, 500g Icing Sugar, 5ml Vanilla Extract)
Made this recipe? Don't forget to tag me!
@itssarahsibley I love to see all your tasty creations!