Kinder Chocolate Celebration Cake
I made this cake for my son recently when he requested a birthday cake covered in Kinder chocolate and got loads of requests for the recipe, so here it is! Enjoy 🙂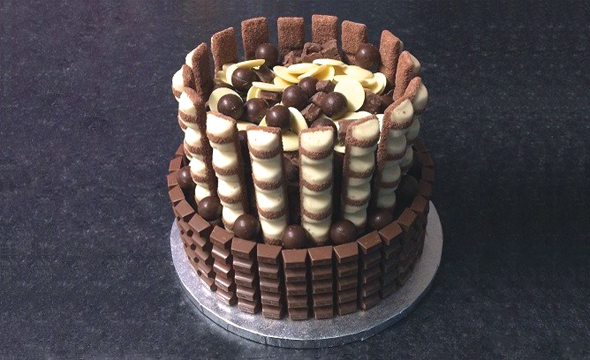 Ingredients
For the Cake
500

g

Soft Butter

Stork

500

g

Caster Sugar

15

ml

Vanilla Extract

9

x Medium Eggs

75

ml

Milk

500

g

Self-Raising Flour

130

g

Good Quality Cocoa Powder
For the Frosting
250

g

Unsalted Butter

softened

300

g

Nutella

500

g

Icing Sugar

75

g

Good Quality Cocoa Powder

7

tbsp

Milk

To Decorate

8

x Kinder Buenos

16 fingers in total

36

x Kinder Mini Treat Bars

3

x Different Large Bags of Chocolate Buttons

Balls or Chunks (I used Milkybar Giant Buttons, Aero Balls & Twirl Bites)
Instructions
Unwrap the Kinder bars and put them in the fridge along with the bags of chocolates

Preheat the oven to 275° F / 140° C / 120° Fan / Gas 1.

Line an 8" tin & a 6" tin.

Cream together the butter and sugar until pale and fluffy.

Add the beaten eggs and vanilla & beat together.

Add the flour & cocoa & milk and mix thoroughly until smooth.

Spoon the batter into the tins making sure each tin is filled to the same height and bake for around 1hr 45mins or until a skewer comes out clean.

When baked remove from the tins and leave to cool on a wire rack.

Whilst they cool make the frosting. Cream the softened butter together with the Nutella.

Then add the icing sugar and cocoa, mixing together until creamy and lump free.

Finally add the milk and whip together until smooth.

Once the cakes are cool cut the domed top off of each one so they are flat.

Then split each one in half and fill with some of the frosting.

Use some more of the frosting to stick the large tier to a cake board and then completely cover with frosting.

Place the second tier in the middle of the large tier and cover that with frosting too. When covering the cakes it is better leave the frosting thick and rough so the decorations will stick better and you should work as quickly as possible so you can attach them before the frosting starts to set.

Remove the chocolate from the fridge and stick the Mini Treat Bars around the bottom tier and then stick the Buenos around the top tier leaving a small space between each one.

Place one of the Aero Balls in between each of the Buenos and then mix together the rest of the chocolates and carefully pour them onto the top of the cake.
Made this recipe? Don't forget to tag me!
@itssarahsibley I love to see all your tasty creations!