Cadbury's Creme Egg Cupcakes
These cupcakes are always a massive hit around Easter! They are fun, tasty and surprisingly easy to make. So here is my Cadbury's Creme Egg Cupcakes Recipe and Tutorial.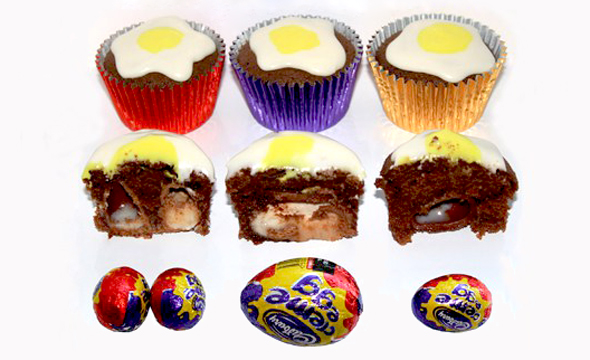 Ingredients
150

g

Soft Butter

Stork

150

g

Caster Sugar

3

x Medium Eggs

130

g

Self-Raising Flour

20

g

Cocoa Powder

12

x Large Creme Eggs / 12x Small Creme Eggs / 24x Small Creme Eggs

50

g

Unsalted Butter

softened

140

g

Liquid Glucose

1 tube Dr Oetker

1

tsp

Vanilla Extract

4

tsp

water

300

g

Icing Sugar

A few drops of yellow food colouring
Instructions
A few hours before making these cupcakes, you need to place the creme eggs into the freezer. If you don't, your cakes won't work properly and the eggs will melt into the rest of the cake and become a gooey mess!

When you are sure the eggs are all completely frozen, preheat the oven to 325° F / 160° C / 140° Fan / Gas 3.

Line a muffin tin with 12 large muffin sized cupcake cases.

Cream together the butter and sugar until pale and creamy.

Slowly add the beaten eggs.

Finally add the flour & cocoa and mix thoroughly until smooth.

Spoon a small amount of the batter into each of the cases.

Then remove your eggs from the freezer (leave them in there right until the last minute) and place them into the cases on top of the batter. You can either use one large creme egg in each, which should be placed on it's side, 2 of the mini sized eggs standing up side by side, or one of the mini eggs laying on it's side depending on preference.

Finally cover the creme eggs with the remaining batter and bake for around 30 minutes.

Remove from the tin and leave to cool on a wire rack.

For the creme egg goo topping, whisk together the softened butter, glucose, vanilla and water until combined.

Then add the icing sugar and whisk together until creamy and lump free.

Take a few spoonfuls of the goo and place into a separate bowl with some yellow colouring, mixing until completely blended.

Once the cakes are cool put a blob of the white goo on top of the first cake and using a decorating tool or the handle of a teaspoon, spread the goo out into a splat shape.

Then add a small blob of the yellow goo in the middle and spread it out into a yolk shape.

Do the same on the rest of the cakes & enjoy!
Made this recipe? Don't forget to tag me!
@itssarahsibley I love to see all your tasty creations!